Chile en nogada: a classic of Mexican gastronomy
The Pirate Puerto Morelos of the Kaam Group committed to the most vulnerable groups in the community of this charming town, so it will donate 50% of its sales of this historic dish.
The profits obtained at the Chile Fair in nogada will be donated to the DIF Puerto Morelos.
There are different versions about the origin of this classic dish of Mexican food, however it is said that the chiles en nogada were born in the 17th century in the convent of the Clarisas nuns in 1821 when they and some ladies of the high society of Puebla offered to Agustín de Iturbide this special dish when returning from signing the Treaties of Córdoba in Veracruz.
Another version and perhaps the most romantic, written by the writer Artemio de Valle-Arizpe, reports that in the Trigarant Army there were a couple of soldiers loyal to the Mexican Armed Forces and whose girlfriends were waiting for them excited. They, originally from Puebla, wanted to receive them with an unforgettable detail, so they created the chiles en nogada. Each chose an ingredient that represented the color of the army, so the green, red and white details are the most prevalent in this dish.

Both recipes agree that the procedure and basic ingredients to prepare chiles en nogada are:

Roast and peel poblano peppers, then clean them very well inside. Once cleaned, we proceed to fill them with a very special hash (pork stewed with ingredients such as: tomato, onion, garlic, dried fruits of the season, nuts, almonds, pine nuts and some spices).

Once filled, bathe in a white sauce or nogada. This sauce is made from castile nuts. To make this sauce you have to peel the nuts perfectly, they are ground with a little cheese and sugar. They mix with a little milk and sherry wine. The sauce should not be too thick or too watery.


Fun fact: Some recipes suggest weathering the peppers and then frying them, however they can also go without following this procedure.
Finally, the dish is decorated with grains of red pomegranate and parsley leaves, achieving the colors of the flag.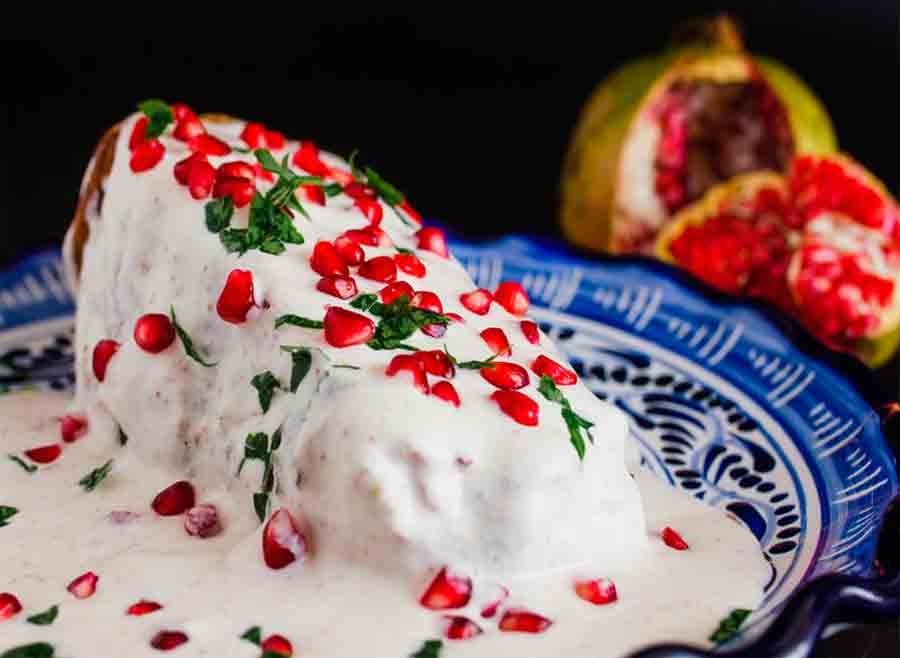 Would you dare to try this classic dish of Mexican cuisine? Throughout September, The Pirate Puerto Morelos will participate in the Chile Fair in nogada, 50% of all proceeds will go to the DIF of Puerto Morelos.
The Pirate Puerto Morelos is part of the Kaam Group **, a socially responsible Mexican company that is 100% committed to the Puerto Morelense community.
** Grupo Kaam is a transparent company committed to the growth of our beloved Puerto Morelos. In each event in which we participate and get involved, we strive to have positive impacts both in the social, economic and environmental fields.
Grupo Kaam has more than 20 years of commitment to society. We are a socially responsible company.